Crafts By Dawn was formed in 1996 by Calissa Shanahan. I discovered that my handpainted pieces were becoming popular. I started selling my items at small shows & special events. I have sold my ceramic pieces at local shops, schools, and community charity organizations. Demand is very high for the quality of work I produce. Each piece is handpainted - no mass production done here. Everything is done at my shop in McDade, Texas. I pour the molds, clean the greenware, fire the pieces and glaze or hand paint with paints or stains. I also have taught classes & enjoy helping others learn about ceramics.
About Me
McDade ISD - PTA Fall Fest
Some of my ceramics being set up on display to sell.
Nothing Fancy but it's where all the work gets done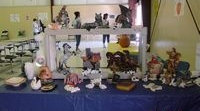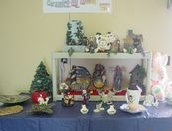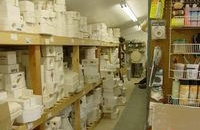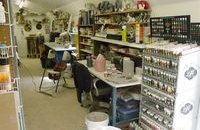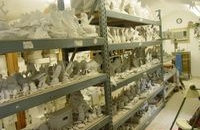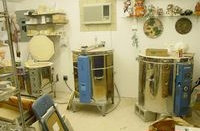 © Copyright 1999-2017
Crafts By Dawn
and
Cute & Cuddly Rabbitry
No material, pictures, and graphics on this entire website may be reproduced in part or in whole without written consent from
Crafts By Dawn or Cute & Cuddly Rabbitry!
Thanks!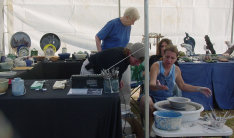 McDade 135th Heritage Day 2008
I was asked to throw pottery for this special event.
Maybe I might sell a piece or 2.
Roxanne and I had a great time that day!